Recycle your old electronics
We want your old stuff... Well actually we don't want it, but we know someone who does. We work closely with an electronics recycler in Regina to make sure your used equipment get recycled properly. The metal goes to the metal guys, the plastic goes to the plastic guys, well you get the picture. Please feel free drop your stuff off with us anytime we are open and we will get it looked after, no need to wait in line at Sarcan.


What Electronics Can Be Recycled?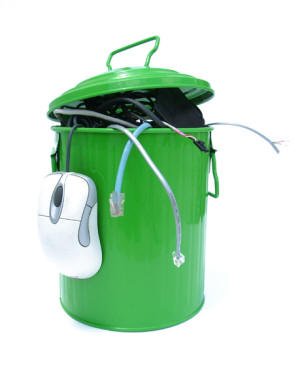 Examples of acceptable items include:
| | | |
| --- | --- | --- |
| televisions | fax machines | cell phones & cameras |
| computer monitors | tuners, radios, stereos & speakers | cables & cords |
| computer peripherals & modems | typewriters | equalizers & amplifiers |
| hard drives | answering machines | turntables |
| printers and plotters | telephones & pagers | photocopiers& scanners |
| projectors | VCR, CD & DVD players | personal hand held computers |
Scavenging is not permitted.  No small appliances please.
How much does it cost to take materials to the Recycling Service?
There is no charge.
Who can use the Electronics Recycling Service ?
The Depot is open to all Saskatchewan residents and businesses.