Camera's are not just for safety any more.
Although they are very good for that as well. We have designed and installed systems for our customers for many different reasons. The most common scenario is for security of property, but lately we seen some interesting additional uses.
One of our customers, who has a mechanic shop, was having some issues with customers complaining about damage to their vehicles. Although the damage existed before the vehicle even entered the shop, he had no way of proving it. So we suggest a hi-resolution camera setup and would record the sides and top of each vehicle as it was driven in and out of the work shop, as well as surveillance on the grounds to monitor vandalism.
Another customer of ours wanted a way of monitoring employee coffee breaks, start of day and end of day times. So a camera system that monitored each entrance of the building and the outdoor smoking area keep logs of all employee activity when not working.
The systems that we sell are scaleable. Our middle range system is a 16 channel recorder with 8 cameras and cables included. So you can start with something simple and then upgrade as you feel the need. We have indoor and outdoor cameras as well as all of the accessories to install them. We can also help you with the install or give you the information to do it yourself. It is fairly easy to do. Please let us know if you have any questions…
Please read about some of the features below.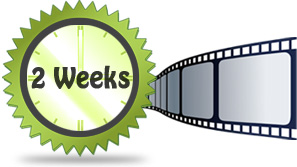 1TB HDD Allows for 2 Weeks of Continuous Recording
The 1TB hard drive is optimized for 24/7 surveillance utilizing cutting edge H.264 compression to record 2 weeks of video simultaneously from all 8 cameras. With real time recording, you are able to play back your recorded footage flawlessly.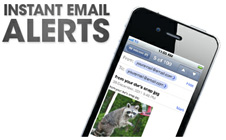 Instant Email Alerts if Activity Detected
This system is designed to send an email alert, complete with photo of the activity, if any motion is detected, or if any camera experiences video loss.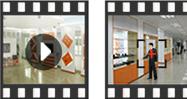 Advanced Motion Detection Recording
The motion detection options allow you to record only when motion is detected to save hard drive space without missing important events. You can even ensure that false alarms are avoided by setting the motion detection "mask" to block areas with constant movement.
Remote PC & Smartphone Live View
View live video streams directly from your supported PC or Smartphone running Android™ 2.1 – 2.3, iPhone®, iPad®, Symbian™ V3 & V5, Windows Mobile® 5.1 & 6.1, or Blackberry.

Easy USB Backup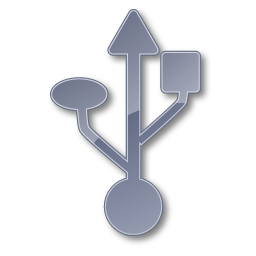 Built-in USB port gives you the option of backing up and transferring your video footage with a USB flash drive or external USB hard drive.
Multiple Recording Modes
Choose 24/7 continuous recording, schedule specific recording times by hour or day, or set motion detection recording to help catch only the important information to save on hard drive space.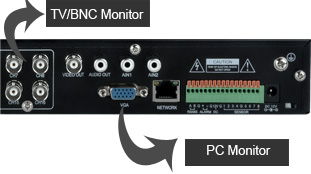 View from a TV or PC monitor
A TV can be used with an AV cable, while a PC monitor can be used with a VGA cable. This gives you more connection options while viewing activity captured by your cameras.
Weather Resistant Housing
Each camera is constructed utilizing professional grade materials for the housing and a sunshade to help prevent glare, deterioration, and rusting. The cameras can be mounted in virtually any indoor or outdoor setting.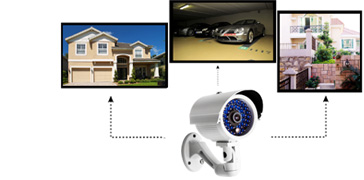 View at Night up to 300ft
Depending on a camera type up to 104 infrared (IR) LEDs activate automatically in low-light or no-light situations to allow you to see up to 300' away, and deactivate once lighting conditions are brighter.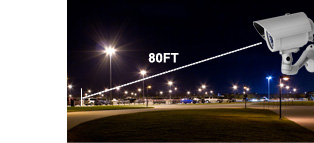 Crisp, Clear Image
High quality 1/3" Sony CCD image sensor provides a crisp, clear and consistent image utilizing 420 TV lines of resolution.